32bit Fax / 64bit Fax
Updates

Forward fax to email using a free Google-gmail SMTP server account.


If the fax recipient has no fax-number, send the fax to their email address attached to an email, using a free Google-gmail SMTP server account.


Accumulate fax in a Fax-Accumulator to build a multi-page fax.


64bit print to fax.


View Event Error messages from InBox and OutBox.


View cover page from SendQueue and OutBox.


Send an immediate priority fax.


Improved compatibility with newer fax machines.


Date support. Select USA, UK or World.


Time support. Select 12 hour or 24 hour.


Convert/Forward any document to Fax AddOn.


Send to Fax API supports Multiple recipient lines.


Option to override the SMTP and POP server port number from 25/100.


Traverse previous or next event using [PgUp] and [PgDn].


Traverse previous or next fax using [Ctrl-PgUp] and [Ctrl-PgDn].


Monitor current events from all workstations.


Windows Vista the [ElectraSoft Vista Fax] is created for you.


Verbal Report after each Event lets you select any WAV file of your own.


Improved the performance of the InBox, OutBox, SendQueue, FaxBooks.


Defered Internet Send Results for high speed sending.


Supports up to four modems.


Improved the performance of the InBox, OutBox, SendQueue, FaxBooks.


Forward all incoming fax to email address(es) AddOn.


Forward all incoming fax to fax AddOn.


Send fax by email.


Pause/Resume, Hold All Outgoing Faxes in SendQueue.


Do Not Dial Fax Numbers found in this List.


Run as an NT Service or as a Desk Top Application.


Build Long Fax from Multi-Page Fax.


Use this feature to add 1/4 inch (50 white scan-lines) of white to the end of each page.


The ability to print a single fax or multiple faxes from the InBox without having to get into the fax viewer, ie. right click and select print.


Added a new column to the InBox that indicates that a particular fax has been read or is un-read (similar to MS Outlook).


Option to set a fax back to un-read status (ie. right click and select [mark as unread]). The read flag is set if the fax was printed from the InBox or automatically printed to the default printer.


InBox flags whether you read a fax or not. You can sort on this field.


Faster InBox, OutBox, Send Queue, and FaxBooks.


Improved install for quick easy installation.


When deleting events, the option to delete the fax are associated with.


FaxBooks, export to comma delimited file. OutBox, export recipients and fax numbers to a comma delimited file.


Auto-print uses less resources and runs much smoother.


Send Queue, FaxBooks, InBox, OutBox have been Improved and run faster.


FaxBook Importing of fax numbers is MUCH easier and flexible.


Send faxes programmatically from the programs that you write; with the added [Fax API] source-code in the included manual.txt.


Three options for setting the sounds made after each event.


Auto Print incoming faxes option.


The registered version will handle downhole well log image faxing.


The interface is color coded to help you better identify the controls.


Extensive search of any or all fields of the default FaxBook.

32bit Fax / 64bit Fax
Testimonials
I work away from the office a lot. I can access email but not fax. I have orders which are faxed to me. ElectraSoft's fax software forwards these faxes to my email account where I can access them as PDF or TIF files. PDF is Portable Document Format (PDF) and can be read with Adobe Reader and many other Windows software applications. TIF is Tagged Image File Format (TIFF or TIF) and can be read with most Windows software applications.
---
Hi Jon. Thank you for the e-mail.

Mannering Constructions is a corporate client of mine and I am upgrading their office computers, network and the way they communicate. Your fax software will be a featured component of this upgrade as it is with almost all of my corporates.

Your fax software has been a staple in my recommendations to my clients for many years. Mannering Constructions has a combination of 32 and 64 bit machines. I am happy to see you have accommodated the 64 bit machines and hope it works for us.

I was going to test the 64 bit server today, however the machine does not have a modem installed so it will be done tomorrow. An order for licences will most likely be placed latter today.

I hope you will be able to assist with any technical problems should we encounter any. Will be in touch if need be.

Eugene Amorosi
IDSN IT Support
---
Hello Bill,

Thank you! Yes I did get a chance to run it and I could not have been more pleased! Your fax software is by far the best product of its kind to exist! In the help files, well, you thought of everything. The best help files I've ever come across. The entire product is excellent and very easy to use. Congratulations you have a first place winner in my book!

Dave Vukad
---
Just a quick note to say thank you for such a simple and easy to use fax program. As you stated, I was sending and receiving faxes in minutes. Within the hour I was recommending the program to my colleagues.

Good Job!
Suzanne Gill
---
Good Reasons to buy from ElectraSoft
Buy a ZyXEL Omni 56K COM Plus Fax Modem
Powerful, Elegant, yet Simple and Compact
1.25 inches high, 4.25 inches wide, 4.5 inches long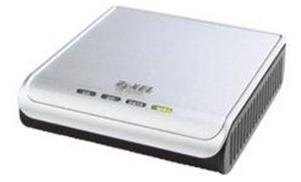 Here are the three OEM parts that you get with this purchase:

ZyXEL Omni 56K COM Plus Fax Modem


9 pin RS-232 cable to connect from the ZyXEL to a RS-232 COM-port on your computer


Power supply
Send us an email

About the ZyXEL Omni 56K COM Plus Fax Modem
If you need a dependable modem, buy a ZyXEL Omni 56K COM Plus fax modem that supports all three fax classes; FCLASS 1, FCLASS 2, and FCLASS 2.0 and plug the ZyXEL into a computer COM-port.

The ZyXEL Omni 56K COM Plus is the ideal solution for sending and receiving fax when using 32bit Fax / 64bit Fax software program by ElectraSoft or with a phone dialer like Speed Dial by ElectraSoft. Many people use the ZyXEL for their dial-up Internet access with its powerful data and voice functions. It supports ITU V.92 protocol and can run a maximum 56Kbps downstream rate and 48Kbps upstream rate. The Omni 56K COM Plus is not only compatible with industry standards, but also the upstream transmitting speed is faster than ever before. It is very easy to install and compatible with all existing modem and fax standards. In addition, Flash ROM provides easy access to new features, and also easily updates new firmware.


Faxing on VOIP (Voice-Over-IP) Problem Fix...
If you want to send fax in this new world of VOIP phone-lines, you need a modem that supports VOIP. Most fax-modems have a problem with the new VOIP phone lines.

You may say I have the old-fashion-phone-line, won't that work. Well yes, but only if all the people that your are sending and receiving fax from have an old-fashion-phone-line.

The ZyXEL Omni 56K COM Plus Fax Modem is the best fax-modem for sending fax on the old phone lines and on the new VOIP phone lines.

Years ago when the world of faxing started, it was the latest and greatest way of communicating. Now we have the Internet and email. Even our phone lines for talking and faxing are changing to VOIP.


Benefits:


ITU V.92 56K down and 48K up-stream data transmission
Compatible with RS-232 serial connector
Automatic speed fall-back/fall-forward with fast retrains switching
Automatic Data/Fax call detection
Voice digitization and compression
Error control & data compression
Microsoft Windows plug and play compatible
Distinctive Ring Detection
Caller ID
Flash ROM upgradeable


Specification:


Technical Specifications
Operation Modes: Auto-dial/Auto Answer, Originate/Answer
Command Set: Full AT command set, Extended AT command set
Dialing Type: Tone/Pulse dialing
Flow Control: Software XON/XOFF, Hardware RTS/CTS
Configuration Setting: Software programmable (with non-volatile memory storage)
Asynchronous Data Rate: 300 to 460.8Kbps (Auto-baud)
Line Type: 2-wire dial-up line
Diagnostics: Digital Loop-back, Line Condition Reporting
LED Status Indicator: HS, OH, DATA, MR
Data Compatibility
V.92 56K down-stream and 48K up-stream data transmission
Modulation mode: V.92, V.90, V.34bis, V.34, V.32bis, V.32, V.23, V.22bis, V.22, V.21, Bell 212A, Bell 103
On-line line condition monitoring
Serial DTE speed up to 460.8Kbps
Protocols Supported:
Error Control: V.44/V.42/MNP 3-4
Data Compression: V.42bis/MNP 5
FAX Compatibility
G3 Fax send/receive
V.17 (7.2Kbps to 14.4Kbps)
V.29 (7.2Kbps to 9.6Kbps)
V.27ter (2.4Kbps to 4.8Kpcs)
EIA Fax Class 1 and Class 2.0 command set
Voice Compatibility
9.6Kbps sampling rate
Voice recording on-line
IS-101 command set
DTMF tone generation and detection
System Requirement
PC which is equipped with RS232 port
56K compatible local analog phone line
V.92 56K ITU standard capable service provider

Read the ZyXEL Omni 56K COM Plus User Manual